Dynamic Collaboration Cockpit Reset Sessions
Discover how the new co-reflective collaborative paradigm enables you to create a more inclusive, resilient, and sustainable business approach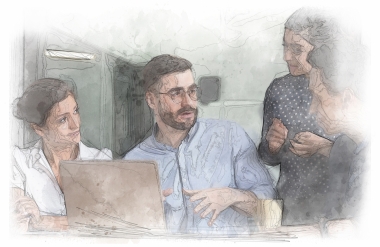 The Dynamic Collaboration approach invites you to think differently about your organization and think differently about converting your strategy to operational excellence.
Most approaches start from a limited number of concepts, an idea of coherence, linear steps, and trade-offs. Unintentionally, the associated logical, sequential thinking leads to a fragmented, narrow, and oversimplified vision of the challenges you face as a business manager. They do not help you deal with the many paradoxes and uncertainties. It often results in insufficient involvement, rework, and failing transition efforts.
In the three cockpit sessions, we invite you, together with fellow entrepreneurs and business leaders, to look at the future differently. We focus on how to deal with contradictions, conflict, imbalance, and disruption. In each session, we take a paradox as a starting point and reflect on how we give it meaning and its essence.
Our starting point is that the interdependence, speed, and complexity in working together is thoroughly shaken during the Covid crisis. We ask ourselves what this means in terms of your strategy formulation and implementation.
We assume that as a business leader in the new normal, you need to rebalance three areas of tension, namely "Autonomy and Cohesion," "Stability and Diversity," and "Exploration and Exploitation". We take the work of Ivo Velichkov as a point of departure.
The concepts appear to be polarities, but we will not fall into the trap of presenting them as opposites. We invite you to investigate how autonomy is nested in cohesion, and vice versa, where the creation of cohesion can lead to more independence. To give an example, defining market segments constraints and creates cohesion between commercial activities according to target markets (cohesion), but also allows greater autonomy for account managers for further market development.
So we invite you to explore dynamic equilibria. The "glasses" provided make it possible to reinterpret the relationship between building blocks layered in an organization. For example, the structure can stimulate an exploration dynamic on one level, while it is more likely to enable exploitation and upscaling on another level. In this way, you discover other connections in the complex reality of your organization.
The balances perspective also invites you to look for the in-between space, which creates the tension relationship between the concepts. It allows you to pay attention to what they have in common and where divergence arises. Resist the temptation to take a simplified look at what creates stability in your organization and instead look for what makes diversity in this stability. The interesting question is: how do equilibria develop and get nourished by looking at the interplay and intertwining of aspects in an organization by using the proposed concepts?
In the sessions, you will discover a viewpoint that helps you look at the range of social challenges differently, not from a logical, analytical perspective, but from a dialectic perspective. After all, we won't solve social challenges by forcibly linking what is put in opposition, such as the market and government. Instead, you will have more success by looking at how so-called opposites maintain, strengthen, or weaken each other. After all, it is the space in-between that creates opportunities and bridges and allows one to think through the uniqueness of every situation. Exploring the in-between makes it possible to integrate seemingly opposing elements into a new dynamic system. This viewpoint helps us better deal with social challenges. It also helps to approach organization, team, and individual dynamics authentically.
20 April 2022: Session one: Autonomy and Cohesion
27 April 2022: Session two: Stability and Diversity
4 May 2022: Session three: Exploration and Exploitation
The sessions will be facilitated by Jan De Visch and Maarten Van Damme (Firestarter Enthusiasm).
Meeting Times & Participation Fee
The cockpit sessions take place on three Wednesdays, from 5.30 pm to 7 pm CET (Brussels time), and are organized virtually.
The participation fee is 360 Euro (excl. VAT). You can transfer this amount via PayPall. This way you also confirm your registration.
If you are interested in organizing a Dynamic Collaboration Cockpit track in your own organization and explore how you and your team can shape the future even better please contact jan@connecttransform.be .