Dynamic Collaboration Deep Dives
In-depth solution-focused inspiration to truly weave best practices into your collaborative practices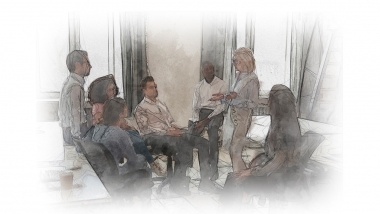 Companies that embrace practices from the New Normal will realize competitive advantage: more comprehensive decision-making, more vital mutual learning, and more sustainable development.
The deep dives always start from one cornerstone of the Dynamic Collaboration approach: decision-making, work design, and team dynamics. They are three-day programs in which we make a unique connection between the best scientific research on the themes and the emerging practices in organizations.
The deep dives are three-day programs aimed at senior managers and systemic organizational development supervisors who are confronted with the limits of their approach and want to enrich their perspectives. The Deep Dives are designed to reinforce existing frameworks and toolkits. Indeed, each Deep Dive brings to light a hidden dimension and a complementary intervention process. This allows you to weave the insights provided into your approach.
The deep dives consist of three days each, spread out over time. The participation fee per deep dive is 900 Euro (excl. VAT). The Dutch-language sessions take place physically. The English program is provided digitally.
30/09, 14/10, and 28/10 – Coping with Complexity (three days – in Dutch)
This program is designed to support executives in crucial leadership transitions, namely those related to the need to think and decide more broadly, let go of the ego, and realize stronger connections in collaboration.
As a participant you will learn:
– observe your own assumptions and thinking patterns and make them workable;
– identify problems and issues before they become intractable;
– effectively identify, clarify and leverage relevant perspectives to improve the quality of decisions;
– determine when and to what extent collaboration is appropriate in a given decision-making context;
– facilitate and participate in effective collaborative decision-making;
– create an environment conducive to effective communication, collaboration, and decision-making;
25/11, 2/12 and 9/12 – Designing your organization more effectively (three days – ENG)
This program will change your view on organizing forever. It gives you the tools to build more effective organizational structures. More effective organizational structures are agile, facilitate cross-cutting collaboration, and strengthen ownership at every level of an organization.
As a participant, you learn:
How to put the five organizational design principles into practice.
To assess what works in an organizational set-up/structure and which elements in a corporate set-up lead to slow decision-making, micro-management, inefficient decision-making, fault lines in strategy realization, and undesired turnover.
Which small interventions can create positive breakthroughs in dynamic collaboration.
How to mutually reinforce the growth of employees, the team, and the company through changes in the role and function design.
How to prevent silos from forming as the company grows and turn siloisation into productive cross-team collaboration.
Practical tool for assessing the contribution theme within and the quality of the relationships between assignments.
6/12, 13/12 and 20/12 – Working together to learn, innovate and compete (three days – NL)
This program invites you to look at team and project work in a totally different way. We make you aware of two hitherto underexposed team dynamics that are linked to how people deal with differences in perspective. Namely, those related to narrowing the team assignment too much (as a result of which deadlines are not met, budgets are exceeded, and undesirable matters have to be reworked) or opening up team assignments too much (as a result of which tension fields with flanking teams are created, risks of burnout are created and systems and processes are unexpectedly questioned).
In particular, we zoom in on giving and receiving contribution-based feedback and broaden your view of what works in classic self-management approaches.
As a participant, you will learn:
– How to make teams work from different time horizons (the immediate, the transitional and the transformational time horizon).
– What essential roles you can use to shape team collaboration across departmental boundaries more effectively.
– To determine the different consultation formats needed to achieve team goals and how to align them.
– How you can differentiate feedback from the nearby zone of development of team members and direct learning processes from there.
– How to achieve effective joint decision-making through critical facilitation.
– How to enrich existing project approaches by using retro's or retrospective sessions in a different way.