Dynamic Collaboration Hands-on Starters
Discover new human capital practices based on the best research on individual, team, and organizational development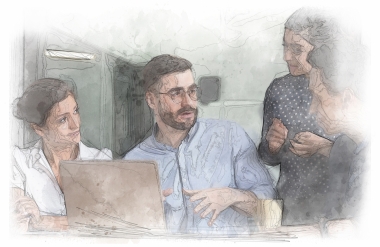 The Dynamic Collaboration approach invites you to think differently about your organization and think differently about converting your strategy to operational excellence.
Most approaches start from a limited number of concepts, an idea of coherence, linear steps, and trade-offs. Unintentionally, the associated logical, sequential thinking leads to a fragmented, narrow, and oversimplified vision of the challenges you face as a business manager. They do not help you deal with the many paradoxes and uncertainties. It often results in insufficient involvement, rework, and failing transition efforts.
We notice that a range of new cooperation practices is emerging. In the Hands-on, we highlight one practice at a time. However, they have in common that they address themes that determine the undercurrent of collaboration and remain a hidden spot in existing approaches, such as working from nearby development zones, taking the entire context into account by working with relative performance indicators, and focusing on (more) thoughtful action.
In the Hands-on session, you will get a hands-on view of the practice and discuss how you can apply this practice in your organization.
The price per hands-on session is 80 Euro (excl. VAT). The sessions are online and organized in the evening from 7 pm -21pm (CET).
Below you can find the sessions organized in English. You can find the sessions organized in Dutch on the Dutch page (which you can select in the upper right corner of this site).
15/03/2023 – The Future of Teamwork
The search for formulas to make teams work better remains extremely topical. We can even ask ourselves whether the quality of teamwork improves. Notwithstanding the enormous training and coaching effort, barely one in twenty teams turns out to be a winning team.
Winning teams combine dealing with each other differently, listening and integrating different points of view, aligning individual initiatives, and taking joint decisions. Thoughtfulness in interplay is lacking in many self-management approaches, making self-management difficult to develop.
Thoughtful action is the basis for creating consciously development-oriented or learning organizations. We briefly highlight seven tools that also form the basis for incorporating ownership and true collaborative thinking. It is up to you, dear participant, to assess how these out-of-the-box outlines will shape the future of teamwork.