Dynamic Collaboration Hands-on Starters
Discover new human capital practices based on the best research on individual, team, and organizational development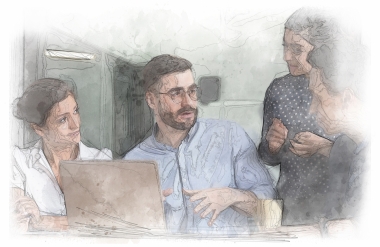 The Dynamic Collaboration approach invites you to think differently about your organization and think differently about converting your strategy to operational excellence.
Most approaches start from a limited number of concepts, an idea of coherence, linear steps, and trade-offs. Unintentionally, the associated logical, sequential thinking leads to a fragmented, narrow, and oversimplified vision of the challenges you face as a business manager. They do not help you deal with the many paradoxes and uncertainties. It often results in insufficient involvement, rework, and failing transition efforts.
We notice that a range of new cooperation practices is emerging. In the Hands-on, we highlight one practice at a time. However, they have in common that they address themes that determine the undercurrent of collaboration and remain a hidden spot in existing approaches, such as working from nearby development zones, taking the entire context into account by working with relative performance indicators, and focusing on (more) thoughtful action.
In the Hands-on session, you will get a hands-on view of the practice and discuss how you can apply this practice in your organization.
The price per hands-on session is 80 Euro (excl. VAT). The sessions are online and organized in the evening from 7 pm -21pm (CET).
Below you can find the sessions organized in English. You can find the sessions organized in Dutch on the Dutch page (which you can select in the upper right corner of this site).
18/10/2023 – The future of cross-divisional decision-making – 19-21h CET
This hands-on session discusses how to approach cross-divisional projects and programs working more effectively.
Here, we start from observations from cognitive psychology research, namely that people evolve:
– From an egocentric worldview to a more social and systemic perspective.
– Towards an increasing degree of critical thinking.
– Towards an increasing awareness of conscious interdependence and responsibility.
– Towards a broadening of their learning styles;
– From an individualistic to a more collaborative identity, where co-creation and collaboration are essential.
In practice, the above means that in project and program management, you have to deal with totally different perspectives of participants. Clear objectives, clear roadmaps, and milestones, sharp indicators, and even good agreements on who does what are insufficient for projects to succeed. Agreements are reinterpreted, timelines are not followed, and budgets are exceeded.
We deal with the question of what you can add and do differently to enable you to achieve connected project and programme management and better results.
22/11/2023 – The Future of Multi-stakeholder Dialogue – 19-21h CET
The future of many companies depends on how they can build ecosystemic collaborations. Open innovation, circularity, and reverse logistics are just a few examples where building collaboration must be realized between parties with often divergent goals, perspectives, and interests. Working from one shared mission, vision, and strategy is very difficult. A layered decision-making process and governance also often intrude.
How can you build trust? How do you agree on who does what in a context where the perspective on what needs to be done shifts? Through what kind of monitoring and evaluation do you track whether the governance set-up is working, and how do you adjust it?
In this hands-on session, we approach these questions pragmatically and based on recent research. We provide eight principles for successful cooperation from diversity and with respect for diversity.
The individual participation fee is 80 Euro (excluding VAT). You can transfer this amount via PayPal. This way, you also confirm your registration.