Dynamic Collaboration Hands-on Starters
Discover new human capital practices based on the best research on individual, team, and organizational development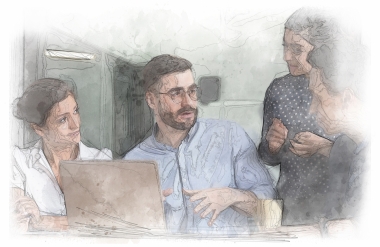 The Dynamic Collaboration approach invites you to think differently about your organization and think differently about converting your strategy to operational excellence.
Most approaches start from a limited number of concepts, an idea of coherence, linear steps, and trade-offs. Unintentionally, the associated logical, sequential thinking leads to a fragmented, narrow, and oversimplified vision of the challenges you face as a business manager. They do not help you deal with the many paradoxes and uncertainties. It often results in insufficient involvement, rework, and failing transition efforts.
We notice that a range of new cooperation practices is emerging. In the Hands-on, we highlight one practice at a time. However, they have in common that they address themes that determine the undercurrent of collaboration and remain a hidden spot in existing approaches, such as working from nearby development zones, taking the entire context into account by working with relative performance indicators, and focusing on (more) thoughtful action.
In the Hands-on session, you will get a hands-on view of the practice and discuss how you can apply this practice in your organization.
The price per hands-on session is 80 Euro (excl. VAT). The sessions are online and organized in the morning from 8am-10am (CET).
14/9 – Coaching from the near development zone: towards in-flow functioning (Dutch)
Coaching usually focuses on becoming aware of and developing one's strengths and reducing weaknesses. The emphasis is on strengthening one's actions. The developmental phase from which an employee interprets his/her reality and makes decisions from this perspective is ignored. Working from someone's nearby development zone means recognizing the signals indicating whether someone is ready for a transition to a different interpretation and decision-making scheme. You do this using thought-opening questions that allow thought patterns to be discussed.
Working from the near development zone is a real game changer in designing a new generation of leadership development programs that deals better with uncertainty, ambiguity, and complexity.
12/10 – The practice of working with relative performance indicators (ENG)
The dominant corporate performance management approaches are characterized by annual agreements that are periodically followed up and to which bonuses are often linked. The disadvantage of such systems is that they focus an employee's attention on his or her own 'defined' performance, rather than on the contribution of that performance to the larger picture of a developing environment.
Companies like Toyota, Handelsbanken, and Google have recently embraced a new model: working with relative performance agreements. You will learn what that looks like and how it leads to greater agility in this Hands-on session.
23/11 – Practical handles for acting more thoughtfully in team settings (Dutch)
Barely one in twenty teams is a winning team. Winning teams combine dealing with each other differently, listening and integrating different points of view, aligning individual initiatives, and making joint decisions. Unfortunately, the thoughtful interplay is lacking in many self-directed approaches, making self-direction challenging to develop.
Thoughtful action is the basis for creating consciously development-oriented or learning organizations. We briefly highlight seven tools that form the basis for taking ownership and thinking together.