Dynamic Collaboration Breakfast Hack Sessions
Hands-on solution-focused inspiration to truly weave best practices into your collaborative practices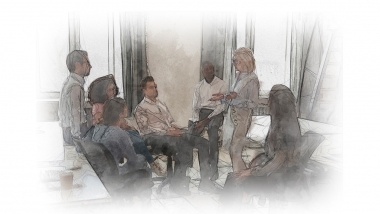 Companies that embrace practices from the New Normal will realize competitive advantage: more comprehensive decision-making, more vital mutual learning, and more sustainable development.
The Hack sessions highlight these new practices. We start from a known tool, question it critically, and propose a more comprehensive and effective approach based on Co-reflective Collaboration.
In each session, we combine the thought opening with a nice breakfast. We meet back physically and take the time to have an in-depth dialogue about how the inspiring practices can be applied in your own organization.
These themes formed the starting point for an engaging dialogue during the spring 2022 semester. Each of the themes can also be brought in-house. Please contact Jan De Visch or Maarten Van Damme
How do you help employees cope with increasing complexity? The practice of vertical growth assignments.
By increasing digitalisation, robotisation, and artificial intelligence in work processes, roles and functions are evolving faster than before. Systems are increasingly absorbing recurring tasks. What remains are tasks where increasing complexity and human decision-making are central. How do you prepare employees for increasing complexity and situations where:
…root causes of problems are not immediately clear?
… past solutions are not working?
… one needs to take the impact on the whole into account?
… one needs to make assessments of which solution will ensure long-term success?
…essential links between all aspects need to be discussed?
This session explores the emerging practice of giving employees vertical growth assignments. These assignments bring employees into their proximal zone of development, broaden their perspective on their challenges and help them make better decisions.
How can you organize yourself to be more customer- and market-oriented? The practice of working with relative performance objectives.
Companies' dominant performance management approaches are characterized by annual agreements that are periodically followed up, and bonuses are often linked. The disadvantage of such systems is that they focus an employee's attention on their own 'defined' functioning, not on the contribution of that functioning to the larger whole of an evolving environment.
Companies such as Toyota, andelsbanken, and Google have embraced a new model in recent years: working with relative performance agreements. You will learn what this looks like and how it leads to greater agility in this Hack session.
April 20, 2022: What level of fluid organization is possible in your organization?
Many organizational change projects focus on achieving more fluid forms of collaboration. They build on the basic idea that classic top-down organizational structures are currently reaching their limits. C.E.O.'s increasingly share the belief that teams make the difference and that traditional boss-subordinate relationships are less and less functional: Marc will be the boss of Martine in some matters, and Martine will be the boss of Marc in others.
Meanwhile, there is a wide variety of fluid organizational forms. Some are rule-based (e.g., Sociocracy 3.0, Holocracy, Spotify). A good example is the Consent Decision-Making approach. However, it is not easy to fit these rules-based approaches into existing collaborative practices. Others are principle-based (e.g., Beta, Semco). Collaborators test their methods against a set of overriding principles, e.g., the principle of transparency. The essential question, and often hidden dimension, is to design self-regulating feedback principles.
But the essential question in the search for more fluid organizational forms is the balance between self-direction and hierarchical direction that will work in your organization. To find out, we have developed a collaborative thinking scan. We invite you to fill in this scan for your organization in preparation for this breakfast session. The 'samendenkwerkscan' not only show where you stand as an organization. Your results are also compared to a benchmark.
During the breakfast, we share what the results can mean for your organization, and we outline how you can take the first steps towards more fluid forms of collaboration.
If you want to fill out the scan but can't be present at the breakfast, please mail us at jan@connecttransform.be . We will be happy to contact you for an individual discussion of your results.
The breakfast session starts punctually at 8 am, and we finish punctually at 10 am. This allows you to continue with a productive day.
You can register using the Paypall button below.