Dynamic Collaboration Hack Sessions
Hands-on solution-focused inspiration to truly weave best practices into your collaborative practices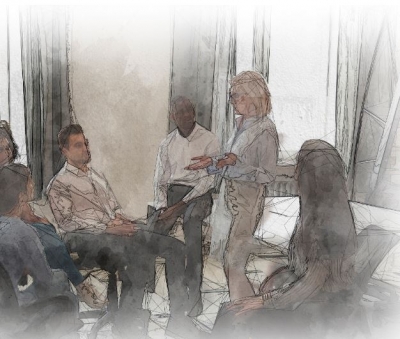 The Dynamic Collaboration approach gives you the input you need to shape your organization differently. The approach integrates insights from complexity approaches with those from research on how individuals develop throughout their lives. The application of these insights leads to sustainable growth, revenue, and margin development.
The core of the approach consists of developing the interpersonal and inner dialogue that people have around what they find meaningful in their work. We start from the observation that many conversations in companies are fragmented and take place based on simple templates and models. As a result, essential aspects that determine cooperation no longer emerge in the dialogue and build-up tensions, and the decision-making process gets impoverished. In the Hack sessions, we explain four practices in practical terms. The sessions are hands-on and based on concrete experiences.
February 23: Disrupted recruitment
What does it mean to select (new) employees on maturity and fluidity of thinking? This session offers you a concrete approach to map out these two hidden dimensions. The methodology is complementary to behavioral selection. It helps you to understand how individuals deal with complexity and how well they make decisions. The process is part of the methodological framework used in sustainable growth companies, such as DPD, GiM, Leuven2030, and the Group Peeters.
March 16: Fair performance feedback
How do you give meaningful performance feedback? In recent years, various approaches (including Holocracy, Sociocracy 3.0, Teal, LiquidO, etc.) have developed alternative performance feedback approaches. What works in these approaches, and what can you add to these approaches so that they can be made workable in your specific context? The process provided zooms in on the conversation's quality, taking into account the differences in the employees' developmental phase/stage.
April 6: A more effective dialogue on potential
What do you mean when you use the word 'potential'? How do you prevent employees who are often regarded as 'potentials' from losing this status after an average of five to seven years? Our current dialogue around employee 'potential' is intensely colored by the behavioral approaches that shade human capital perspectives' diversity. The result is often a poor dialogue in which many judgment errors are made, with unnecessary frustration on the part of employees. In this session, we propose an alternative approach based on recent scientific insights from cognitive developmental psychology.
April 27: Building powerful value stream conversation spaces
Many change initiatives follow a continuous improvement schedule and project logic. The essence of the project logic is to identify and solve sub-problems. Indirectly it pushes the dialogue around the coherence and the underlying value streams into the background. Many themes that do not immediately fit within this project logic are not discussed. This session answers how you can organize the dialogue around the broader context of problems, their evolution, their interrelationship, and their transformational potential in practice.
The hack sessions take place on four Tuesdays (February 23, March 16, April 6 and 27), and are organized virtually from 8h to 9h am CET (Brussels time). The participation fee for the four sessions is 240 Euro (incl. VAT). After registration, you will receive the participation link.
The sessions will be facilitated by Jan De Visch.
The sessions will be recorded. If you miss one session, you will receive the recording the next day.
You can register by using the PayPal button below.