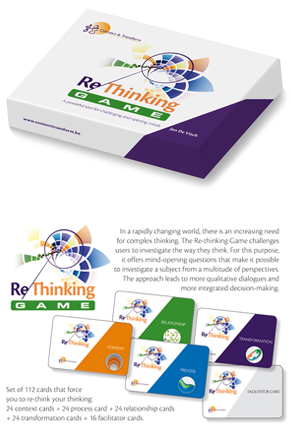 Order 'Re-Thinking Game':
The Re-Thinking Game Story
I developed this thinking game in response to a question a client asked me about a concrete way to help their teams explore challenges and improve the quality of decisions. My client wondered why some project teams didn't see significant problems in their evolving market, why they were mainly looking for solutions within their specialism and overlooked apparent relationships, why they often read their context one-sidedly, and why they didn't manage to identify the potential in the areas of tension. Other teams spontaneously broadened the assignments they were confronted with, led to think out-of-the-box, and had a natural systemic view of things.
Otto Laske made these dynamics visible to me. His life's work revolves around providing insight into the way we grow through adulthood. Individuals mainly evolve in perspective they take on themselves and the outside world. We described these evolutions in our book Dynamic Collaboration. In this book, we made it clear that team members rarely find themselves at the same level of development. This development-oriented diversity in teams creates upward or downward dynamics. My client experienced both dynamics. Immediately linked to this was the question of how to reverse the downward dynamics in teams and handle the diversity in ideas more productively. The issue of maintaining upward dynamics also arose.
I initially looked for solutions within the extensive range of team approaches. The first series of methods focus on opening and deepening awareness of personal style and behavioral strengths and weaknesses (e.g., MBTI, Insights, DISC, Enneagram, learning style, …). A second group focuses on developing practices to better deal with diversity (e.g., decision-making in the absence of objections). Each of these approaches has many strengths. What I missed, however, was that these were insufficient to support team members in the way they can deal with complex situations, and where both individual employees develop, and the team dialogue led to more integrative decision-making.
Otto Laske's work provided a solution here. In his book Measuring Hidden Dimensions (Part two), he described a whole range of mind-opening questions. With this, I started working in teams and refined these through workshops. Some customers have now integrated the thinking game into meetings where they feel that causes and consequences are not clear at all, where there are complex connections, and it is valuable to explore perspectives. Often these are program meetings, strategy dialogues, learning moments on interim project milestones.
The Re-thinking Game challenges users to investigate the way they think. For this purpose, it offers mind-opening questions that make it possible to investigate a subject from a multitude of perspectives. The approach leads to more qualitative dialogues and more integrated decision-making.
How to order the Re-Thinking Game?
2019, Set of 112 cards that force you to re-think your thinking: 24 context cards + 24 process cards + 24 relationship cards + 24 transformation cards + 16 facilitators cards.
ISBN: 97894-6388-300-9
You can pre-order your card set by sending:
45 € (postage & shipping in Belgium included)
49 € (postage & shipping in Europe included)
53 € (postage & shipping outside of Europe included)
Your game set will be shipped within three working days.
Don't miss the original Dynamic Collaboration, and the companion Dynamic Collaboration Playbook. Visit the book pages by clicking on the links.