Dynamic Collaboration Playbook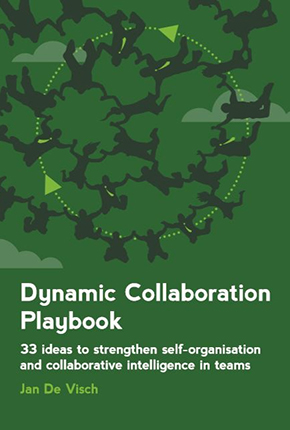 Order 'Dynamic Collaboration Playbook':
Order combination of 'Dynamic Collaboration Playbook' + 'Dynamic Collaboration'
In a time of rapid disruption, companies are reviewing their way of working. This Playbook provides 33 ideas to start thinking about how you can organise, create accountability, make decisions and shape better workplaces.
Introduction of the Playbook
Over the years we have had numerous conversations with colleagues, clients, participants and stakeholders on how they are preparing for the future of work. Global connectivity, smart machines, robotics and new media are just some of the drivers reshaping how we think about work, what constitutes work, and the skills we will need to be productive contributors in the future. The future skill set will be more cognitive in nature, whereas the main developmental focus in recent years has been on behavioural strengths.
Most of my clients struggle with the question how they can adapt their organisational set-up to stay relevant in a fast-changing environment. Transformation trajectories usually take longer than expected and only deliver part of what was promised.
We discussed the root causes in our book Dynamic Collaboration. The core thesis of the book is that the quality of the dialogue that participants have with themselves and with each other determines the pace and success of the transition to self-organisation. The quality of the dialogue is in turn highly influenced by the developmental level of maturity and fluidity of thinking of the individuals involved. In addition, there are various dialogue spaces (We Spaces) that require a different level of integration of perspectives. This issue of integration differs depending on whether the focus in the dialogue is on continuous improvement, rethinking end-to-end value streams or reimagining business models. In each We Space the focus is on a different value creation theme. Clear roadmaps, clear deliverables, a clear approach and a clear plan of action and timetable are not sufficient to make the difference. The integration process starts with dialogue and the discussion of perspectives and tensions; this enables the participants to build the most holistic possible picture of the relevant problem and solution space. Upward team dynamics occur when the most integrated perspective determines the outcomes. Downward dynamics occur when the quality of thinking narrows the perspectives on the challenges within each We Space, leading to poor decision-making.
The purpose of this Playbook is to provide a range of ideas to stimulate and support dialogue and conversations on how self-organisation and collaborative intelligence can be strengthened. We believe the best way to achieve a new balance between control and autonomy is HOLISTIC, through creating an enabling environment that nurtures quality dialogue. This is an environment in which interdependencies and co-evolution are thought through. The following figure summarises the holistic approach:
Content
The book is structured around eight trademarks of a collaborative intelligent organisation:
Holistic: think before you think
Holistic thinking is a profound way of thinking about reality. It determines your dialogue and influences the way in which non-hierarchical, self-regulating, evolutionary and open systems continually de-invent and reinvent themselves as they face increasingly ambiguous markets.
Trust designed in systems
Trust is essential to working in an inter-connected fashion, with each other and for each other. How trust develops is related to your organisational design and the associated feedback mechanisms.
# 1 A blueprint for conversations strengthening self-organisation and collaborative intelligence
# 2 Establish fit-for-purpose accountable cells
# 3 Define the We Spaces and how they could be linked
# 4 Make goals FAST, not SMART
# 5 Rethink meeting practices
Ownership across the organisation
Developing ownership across the organisation is an essential quest in every organisation. These ideas may help you to rethink how you can create ownership.
# 6 Use storytelling to clarify role accountability
# 7 Seven ways to clarify authority in collaborative relationships
# 8 Build an accountability rhythm
# 9 Incentivise for innovation
# 10 Distinguish job 1 and job 2
Intentional learning and decision cycles
Classic 20th-century organisations usually applied make-and-sell business models, which means that they developed products, produced them and then gave the customer an incentive to buy them. Today's organisations use a sense-and-respond approach, which applies an outside-in philosophy. Intentional learning and decision-making facilitates a sense-and-respond approach.
# 11 Better measures, better thinking
# 12 'Sense-and-respond' workforce planning dialogue
# 13 Hands-on governance
# 14 Consider open company meetings
Supportive culture of cohesion and coherence
In organisations, what we talk and think about becomes increasingly disconnected from what we do. Through team cohesion and coherence, team members transcend themselves. Discover how you can realise the potential behind the relationship between the individual and the collective in your organisation.
# 15 Create a purpose-driven organisation
# 16 Hire people for collaboration
# 17 Create a deliberately developmental culture
# 18 Explore your 'One Big Thing'
# 19 Process tensions
Leading the business as a commons
How can you build a community where everyone takes care of the collective resources?
# 20 Create the principles through which people want to be governed.
# 21 Develop collective decision-making
# 22 Rethink compensation as conversation
# 23 Develop a contribution accounting system
Identify your developmental stage
The majority of learning activities are focused on the development of new skills, abilities and behaviours. Real mastery is determined by the quality of dialogue team members have with themselves and with others. This is determined by the 'stages' that people progress through with regard to the way they 'make sense of the world'. Discover how to help people grow in the development of the quality of their thinking.
# 24 Learning to see, learning to lead
# 25 Become aware of your developmental stage
# 26 Identify your zone of proximal development
# 27 Engage in thought experiments
# 28 Develop a portfolio of facilitator skills
Choreographic implementation process
The development of quality dialogue to support the implementation of collaborative intelligence can best be seen as a form of choreography. This is a shift from a 'stepwise' to an 'iterative' change approach. Find out how to achieve it.
# 29 Work on three horizons
# 30 Discuss perspective and do not equate change with training and projects
# 31 Create a taxonomy of opportunities for teams
# 32 Convergent facilitation
# 33 Co-create ambition levels
Details:
Pocket format (14,5 x 10,5 com), 156 pages, ISBN 798-94-6197-640-6
Price: 20 euro (excl. shipping)
Price PDF-version: 16 euro (the PDF will be mailed to you within 48 hours)
Order the book now. Your copy will be shipped within 5 working days.
Consider the combination package and order 'Dynamic Collaboration' together with the 'Dynamic Collaboration Playbook':