Leadership: Mind(s) Creating Value(s)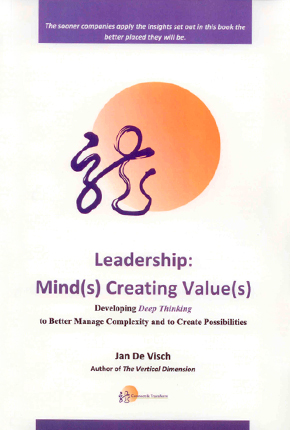 Order 'Leadership: Mind(s) Creating Value(s)':
This is a book about thinking differently.
It's not a book about behavior or thinking errors.
It's a book about Creating Possibilities, Deep Thinking, Integrative Leadership, and Growing Sustainable Business.
The book describes the structure of complex thinking and the connection between the fluidity of thinking of top teams and sustainable business growth.
What I need to tell can be found by skimming through it quickly. You may touch it by reading it all in one go. Oh, certainly, the insights, tools, practice reflections and roadmaps will shift your mind and revolutionize your approach to leadership development. But be prudent — you won't have heard the heartfelt song of deeper thinking hidden within, nor will you have experienced her potential, her power, and her endless depths. To take your time to examine and re-engineer your own mind is the essence of this book. Just because life is too short not to create value(s).
Table of contents:
Chapter One: The Call For Transformation
A seasonal summary of tropical trends
We need a fundamental shift in our thinking
Worried about essential business questions?
The call for looking differently at things is a developmental question
The deepest meaning of transformation of consciousness is "vertical development"
Companies tend to invest much more in 'horizontal development' than in 'vertical development'
We cannot build a more conscious business without focusing on 'how' their members think.
Chapter Two: Deep Thinking in Slow Motion
The mind's eye
Human cognitive development: three inquiry systems
The dominance of the logical inquiry system: a bias for the content in the thinking process
The mind as a set of choices among "fishing nets"
Four groups of "fishing nets", four ways of thinking
The essence of deep thinking: the trick of switching to the negative space
Letting things emerge: become aware of process
The deep thinking way of making sense about movement and emerging change
Building reality in layers, parts and wholes: become aware of context
The deep thinking way of making sense about context and the bigger picture
Bringing together all parts of a whole, however split and split off, from center to periphery: become aware of relationship
The deep thinking way of making sense about relationships and totality
Emulating life in thought: become aware of transformation
The deep thinking way of making sense about transformation and whole systems
Deep thinking is subject to vertical development
Would it make sense to dive into the relationship between the developmental level of an organization's members and how this organization creates value?
Chapter Three: Project EMBEDDED: Exploring How Deep Thinking and Value Creation Are Intrinsically Interconnected
Does deep thinking make a difference in business?
Pilot Project 'Embedded'
Creating value
Value is a relative concept
How well are you doing? An organizational effectiveness perspective
Selecting a relevant set of valuation indicators
Analyzing annual reports: sources of "speaking and thinking"
Measuring deep thinking
Deep thinking text analysis
Leadership: mind(s) creating value(s)
Mapping the mind: how thought circulates
Chapter Four: Re-Thinking: A powerful leadership practice for complex times
Thinking differently is about asking different questions
The Re-Thinking game: learning to think differently
The willingness to question: recognizing, elaborating and integrating context, process, relationship and transformation
The Re-Thinking game cards
How to play the Re-Thinking game
Chapter Five: Developing Leaders' Minds: A Roadmap to Rethinking Decision Making of Leaders at All Levels
The case of Robert B.: exploring the edges of thinking about his decision making
A take on leadership, learning and development
Developing deep thinking: deconstruction and reconstruction of thought as a fundamental process
Developing your decision-making capability
Developing a deep understanding of one's own fluidity of thinking
Strengthening the inner foundation and build an eye for possibility (1)
Strengthening the inner foundation and build an eye for possibility (2)
Welcome disruptive information, iterate, and reframe
Search for more inclusive growth assignments
Enduring reflective commitment
Reflective commitment and mind transforming performance indicators
Chapter Six: Shaping the Organization's Mind: A Roadmap to Conversations Creating (Real) Organizational Development
The case of 51n4e: Creating a conversation of possibilities on an organizational level
Developing conversations that matter: we can only be wise together
Tracing the core concepts in the organization's mind
Creating co-sensing spaces to practice the open systems eye
Engaging in disruptive reflection: defixation as intervention principle
Gearing between optimal conflict levels
Co-evolving from the emerging whole
Chapter Seven: Business Beyond Growth: Coordinating the Thinking on a Whole Systems Scale
The case of the climate change and development knowledge network
Identifying the disconnects in the structures of thinking
Developmental journeys awakening the eco-systems eye
Introducing bridging metaphors and creating windows and mirrors to play with reality
Letting emerge decentralized grassroots movements, reinforcing the wakeup call
Shifting to intention-driven structures, opening higher future possibilities
Epilogue & Executive Summary: The Challenge: Reimaging, Rethinking, and Redesigning Leadership Development around the Principles of Mind(s) Creating Value(s).
References.
How to order the book?
First Edition: 2014, 160 pages, only available in Paperback Copy.
Price: 43 Euro + 6% VAT + shipping costs.
Use the Paypall-button to order your copy.
Shipping is guaranteed within 5 days after receipt of your payment.
Second Edition: 2018, 176 pages, only available in PDF-format.
20 €, your copy will be posted within 48 hours.
Or
Connect&Transform's account number: BIC: GEBABEBB – IBAN: BE25001320828182, mentioning "Book LMCV", as well as your choice, delivery address and VAT number (if you elect to receive a bill).