The Vertical Dimension – Blueprint to Align Business and Organizational Development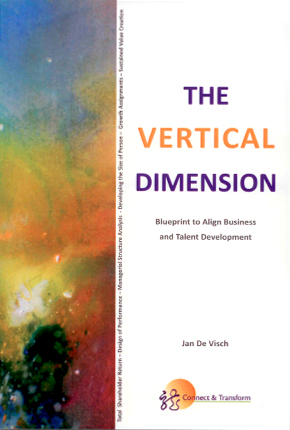 Order 'The Vertical Dimension'
Authored by Jan De Visch, this insightful book is about organizational development and puts forward a leading-edge theory on the critical thinking and essential processes that lead to organizational success. The book's focus is on companies that aim to provide consistently superior returns for stakeholders — in other words, organizations that have a mandate to create stakeholder value. Jan De Visch brilliantly takes what is essentially an "integral" perspective. He critiques current and widely accepted approaches to talent management that exist within firms as an isolated discipline, separate and distinct, from other organizational systems. In essence, he advocates an integrated approach that clearly aligns business strategy, organizational structure, and the development and leverage of human and knowledge capital.
Treading in the footsteps of Elliot Jaques and Work Levels thinking, Jan's modern blueprint involves structuring managerial accountability in hierarchical layers and matching the capability of managers with the complexity of responsibility that they might encounter at the particular organizational layer in which their role sits. Matching the "size of person" with the "size of role" is itself a controversial and often complex process, yet Jan argues astutely that leadership is, in effect, grounded in the management of complexity and that the improvement of organizational performance is a matter of "allocating decisions to those staff best able to grasp them, and developing the leadership to successfully navigate the appropriate level of complexity in their roles".
Jan skillfully sets out four stories (case studies) to illuminate his theory from four different perspectives. Of particular interest to CEOs, senior business leaders, and HR managers each story is encapsulated within a single chapter, covers similar territory, but with a markedly different emphasis to demonstrate how organizational performance improves by placing the understanding of human capability at the centre of high impact decisions on organizational structure and strategy.
The Vertical Dimension: A Blueprint to Align Business and Talent Development 's Contents Table, Introduction and Readers Reactions.
How to order the book?
2010, ISBN 978-94-9069-538-5, 180 pages
The book is out of print. Only the pdf-version of this book is still available.
You can order the pdf via the Paypall button on the left.
Or: Connect & Transform's account number BIC: GEBABEBB – IBAN: BE25001320828182, mentioning "Book TVD – pdf" as well as your delivery address and VAT number (if you elect to receive a bill).