Dynamic Collaboration Application Training
Discover how you can start thinking about what you are not yet thinking about and increase the quality of team dialogue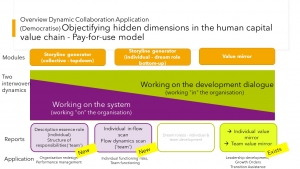 The Dynamic Collaboration Application Training will enable you to get started with the digital application.
The application consists of two primary modules: a storyline generator and a value mirror. Based on these, you can generate the following reports:
An individual value mirror: this report forms the basis for developing a personal development plan.
Description of the essence of a role: based on this report, you can enter into a highly focused dialogue on job and role filling. The descriptions can also be used as a basis for labor market communication.
An individual in-flow report: this report indicates whether an employee is in-flow and what can be done to maintain or restore this flow.
A team value mirror: this report forms the basis for a team development plan.
A team dynamics scan: this report clarifies how a team comes to integration (or not) and how to strengthen its integration capacity.
A structure of responsibilities scan: the report provides an overview of the quality of the relationships between assignments (functions/roles): where there are overlaps and too large function/role distances. It forms the basis for the evolution of the organizational structure.
After the application training, you will acquire a user's license and can use the digital application free of charge for one month.
The Dynamic Collaboration application training takes one day and is organized on request for specific organizations and consulting networks. We adapt the training to the particular needs of the participants. The daily fee is 1600 Euro (excl. VAT) divided by the number of participants. Therefore, the number of participants is limited to 5.
The individual participation fee is 800 Euro (excl. VAT).
On 27/10 in English. The training is given digitally.
On 20/11 in Dutch. the training is organized at the Connect & Transform Offices in Mechelen, Koningin Astridlaan 144.
As a participant, you learn:
How to objectify the quality of your organizational structure and define tasks (functions/roles) in a contribution-oriented way,
How to assess employees' perspective-taking and use it as a basis for development-oriented coaching,
How to make team dynamics negotiable.
Integrating the diversity of reports into the individual, team, and organizational development approaches with the associated intervention processes.
How to use the set of tools to develop a new generation of Human Capital practices: matching employees to assignments, developing learning paths, building winning teams, and shaping performance management systems).