Dynamic Collaboration: Strengthening Self-Organization and Collaborative Intelligence in Teams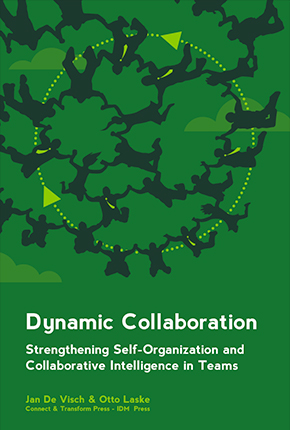 Order 'Dynamic Collaboration':
Order combination 'Dynamic Collaboration' + 'Dynamic Collaboration Playbook'
Endorsements
'In my work with self-organizing teams I have searched for a comprehensive, evidence-based model to think in terms of. Jan and Otto's book has given me an exciting foothold for pursuing this work further.' Koen Lambrechts, HR Director Vivaldis Interim
'This book adds a lot of value to deeper understand complex human systems. The concept of vertical development, the differentiation of We-spaces and the variables that impact on collaborative work and collective intelligence, have enormous value to help us think about how to promote transformation at the individual, organizational and social levels. The dialogues between the team members are very valuable. They facilitate understanding and create empathy with readers who can identify with similar situations.' Azucena Gorbaran, President AMG
'This book not only presents insights into teams from a business and academic perspective; it also offers a great number of tools and procedures for how to install practices that help making the leap to self organizing teams. The book dramatically broadens the way you now think about teams and explains why practices you have used have failed. I am keen to adapt to my purposes much of what the book authors have so far developed (and continue the many 'aha' experiences I owe to the book).' Jan Beyen, CEO CH
Content table
Introduction
Chapter 1: Why Developmental Differences Matter in Teams
Chapter 2: Three Levels of Self Organization in Teams
Chapter 3: Creating Enabling Environments for Developing Self Organization in Teams
Chapter 4: Societal We-Spaces
Chapter 5: How to create collective intelligence?
Closing reflection: Shaping freedom
Bibliography
Annex: The Deep-Thinking Framework and its Thought Forms
A one-minute video of the book's key ideas:
Book reviews:
Book interview for a Canadian network of entrepreneurs: On YouTube
Master Class "Dynamic Collaboration" : Click
A brief introduction on 'how to think systemically about what is not yet there'. Talk for the SCiO. Click here.
Book presentation (in Dutch) on May 31st for Unizo/The Future of Work.
"Dynamic Collaboration" Book Discovery Session on June 6th, coordinated by AMG (Argentina): Click here
How to order the book?
2018, softcover, 240 pages, ISBN: 97890-5325-443-1
You can order a Paperback Copy by sending 55 Euro + VAT (6%) + shipping costs via the paypall-button
You can also order a PDF version of the book:
30 € (the PDF will be send to you by mail within 48 hours)
Or by making a payment to Connect&Transform's account number: BIC: GEBABEBB – IBAN: BE25001320828182, mentioning "Book Dynamic Collaboration", as well as your delivery address and VAT number (if you elect to receive a bill).
Don't miss the Dynamic Collaboration Playbook, a companion guide with 33 practical implementation ideas to start the transition towards self-organization and collaborative intelligence (more information).
Order both books in one package.