Dynamic Collaboration FutureFit Labs
Transformative learning experiences with fellow executives to prepare your organization for the future of work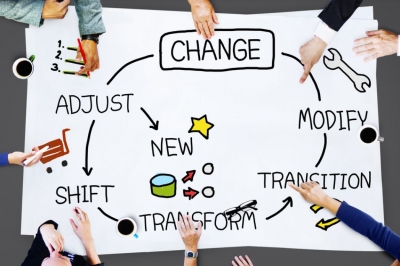 FutureFitLABs are transformative learning experiences with fellow executives where you prepare your organization for the future of work.
FutureFitLABs integrate more than 30 years of research into new ways to develop employees, teams, and organizations. They bring companies together in a learning trajectory spread over nine months. Here they share their experiences in pilot projects and co-create the next steps on a path towards sustainable growth.
The facilitators of the FutureFitLABs start from a metaperspective on development and organization. They are aware that the world is becoming increasingly complex and uncertain and that yesterday's business models are no longer suitable for dealing with today's disruptions. They are leading consultants who know that new ways of creating value for the organization and society are needed – and that it is not easy to map out a path to success.
The FutureFitLab approach starts by exploring how you organize work, how employees interpret it differently at different levels, and how teams deal with differences in perspective intake. It is an approach based on the Dynamic Collaboration perspective that can be woven into all existing methods to change, thereby enhancing their power. The approach leads to …
…accelerating learning processes at all levels;
…strengthening multidisciplinary collaboration;
…increasing agility and proactivity;
Make your business ready for the future
Consider the Samedenkwerkscan, which will give you an initial picture of your nearby development zone. These are the themes that, if addressed, will immediately deepen your capabilities as an organization.
Join a cohort of up to six companies who will exchange their experiences, inspire each other and set up experiments together towards the future of work in 9 half-day sessions. The following threads run through the sessions:
Examining how they can better handle their organization as a complex system;
Understanding how to manage tension fields in harmony better;
Applying how deep thinking leads to agile solutions to complex problems.
Exchanging how created preconditions lead to synchronous development of employees, teams, and organizations.
In a world of rapid change and exponential technologies, we will all need to be "continuous learners" and change how we learn. Half of the sessions will take place online, the other half physically. To maximize the learning experience, we are limiting the group to 6 participating companies. Ideally, you should join with two participants per company.
If you are interested but still have questions, we are happy to schedule a digital moment to explain the formula further (half an hour is sufficient). Feel free to let us know when this would suit you.