Dynamic Collaboration Academy
Innovative insights and hands-on starters for individual, team, and organizational development.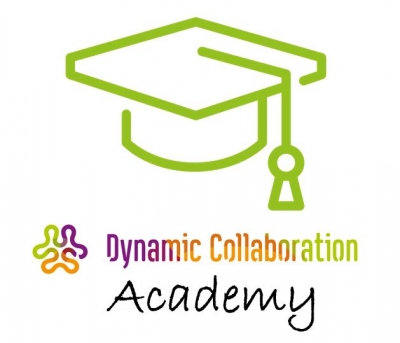 The Dynamic Collaboration approach provides leaders with frameworks to better manage complexity and achieve more integrated decision-making at every level. The tools are based on the co-creation of new practices in organizations. The co-creation builds on insights into how employees evolve in perspective-taking throughout their lives, how to develop effective project collaboration and truly winning teams, and how to redesign roles and functions to achieve effective strategy realization and sustainable growth. They are documented in the publications Dynamic Collaboration (2018), Practices of Dynamic Collaboration (2020), and No Collaboration Without Thinking Together (2022 – Dutch publication). In addition, many of the practices are co-created based on a unique connection of the results of the best scientific research on individual, team, and organizational development. Finally, the techniques are further refined in the FutureFit Labs.
The offerings in our Dynamic Collaboration Academy start from three critical linkages that determine the quality of collaborative thinking:
– The design of work, where we zoom in on the difference that individual collaborators need to make and how to rethink the connection between meaningful assignments. Our systemic approach uncovers the organizational structure patterns through which effective strategy realization takes place and is complementary to functional, result-oriented frameworks of functions and roles.
– The individual decision-making of employees, focusing on the individual perspective-taking from which one reinterprets objectives and the extent to which this affects the quality of thoughtful action. The insights and practices are based on recent insights into how problem-handling and motivational fields evolve throughout life. This approach is complementary to the competency- and skills-focused perspectives.
– Team dynamics, where we look at how teams deal with integrating the diversity of perspectives and come to integrated decision-making. We assume that different mutually reinforcing dialogue spaces are needed in any organized collaborative environment. This approach is complementary to frameworks that view teamwork from complementary styles and roles.
The following figure outlines the three critical questions from the Dynamic Collaboration approach.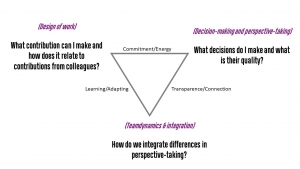 The key questions are the stepping stones to examining the root causes of common challenges in working together:
Reversing difficult strategy realization and slowed growth.
Responding adequately to evolving customer expectations.
Preventing progressive siloisation and difficult interdepartmental and departmental cooperation.
Effectively realizing innovation and change.
Ensuring that projects and milestones are delivered on time and without rework.
Ensuring operational excellence.
Developing leaders who can handle the complexity in their roles.
Making quick and effective decisions at every level of the organization.
Creating self-managing winning teams.
Our training offerings include hands-on starters, integrated learning experiences, and deep dives.
We also offer a one-day Dynamic Collaboration application training course. This training enables you to get started with the digital tool practically. This training is usually organized on demand and adapted to the specific user requirements of the participants.
All training initiatives can be adapted to specific business situations and challenges. Our ultimate goal is to co-create sustainable individual, team, and organizational development paths with a co-creation team from your organization.
Below is an overview of the training initiatives. The training initiatives reinforce each other but can also be followed separately.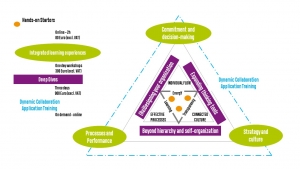 Here is an overview of the calendar. Workshop titles are displayed in the language in which they are organized. You can click on the titles to obtain more detailed information. In the Dynamic Collaboration Academy, certain sessions are delivered in English (ENG) and others in Dutch (Nl) .