Dynamic Collaboration Academy
Innovative insights and hands-on tools for the individual, team, and organizational development.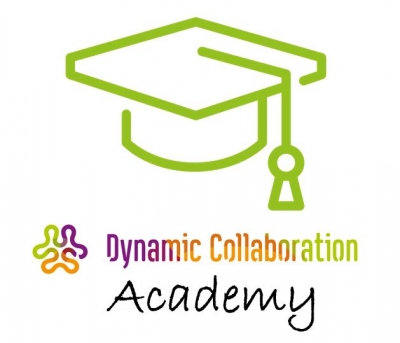 The Dynamic Collaboration approach provides leaders with frameworks to better manage complexity and achieve more integrated decision-making at every level. The tools are based on the co-creation of new practices in organizations. The co-creation builds on insights into how employees evolve in perspective-taking throughout their lives, how to develop effective project collaboration and truly winning teams, and how to redesign roles and functions to achieve effective strategy realization and sustainable growth. They are documented in the publications Dynamic Collaboration (2018), Practices of Dynamic Collaboration (2020), and No Collaboration Without Thinking Together (2022 – Dutch publication). In addition, many of the practices are co-created based on a unique connection of the results of the best scientific research of individual, team, and organizational development. Finally, the techniques are further refined in the FutureFit Labs.
The offerings in our Dynamic Collaboration Academy have grouped around three lines of development: dealing better with complexity, critically facilitating intentional developmental collaboration, and creating breakthroughs in the organization of work. The programs run over three days each. The one-day workshops combine hands-on tools with deeper insights. The webinars are short one-hour inspiration sessions. We can adapt all training initiatives to specific business situations and challenges.
The programs, workshops and webinars will be provided by Jan De Visch and/or Maarten Van Damme in 2022.
If you are interested in one or more programs but still have questions, please don't hesitate to give us a call. We will be happy to set up a short Zoom consultation in which we will be glad to answer them.
Coping better with complexity
Gateway program to next-generation leadership development
The gateway program is designed to support executives in crucial leadership transitions, namely those related to the need to think and decide more broadly on the one hand, and to let go of the ego and realize stronger connections in collaboration from there on, on the other.
The program invites executives to better deal with complexity, become aware of, and better manage their assumptions and thinking patterns. These are executives who are in transition to senior leadership roles.
Participants will learn to do things differently:
Communicate clearly and effectively on complex issues;
identify problems and issues before they become intractable;
effectively identify, clarify, and leverage relevant perspectives to improve the quality of decisions;
determine when and to what extent cooperation is appropriate in a given decision-making context;
facilitate and participate in effective collaborative decision-making;
Create an environment conducive to effective communication, collaboration, and decision-making;
Dates: December 5, 12 and 19
Participation in the program is 700 Euro (excl. VAT)
Workshop coaching from the near development zone: towards in-flow functioning
This coaching workshop focuses on identifying one's near zone of development. This is the zone where you can successfully coach employees, given where they stand in their thinking and identity development. Then, you can integrate the tools provided into different forms of behavioral coaching to increase the effectiveness of coaching and supervision and avoid employees becoming overstretched or under-retched.
The workshop is aimed at anyone who fulfills coaching roles, as a team leader, as a project leader, as an agile/lean coach, or as an external supervisor and wants to broaden his/her perspective on developing coachees' awareness.
Participants will learn to:
recognize signs that indicate whether someone is ready to transition to another level of complexity;
wield a set of questions that open thoughts;
discuss patterns of thinking;
estimating when a chosen methodology will or will not develop someone.
Participation in the workshop is 250 Euro (excl. VAT)
Dynamic Collaboration Hack Webinar
How to strengthen self-organization: from rules-based practices to self-regulating feedback principles? Click here for more information.
Critically facilitating intentional developmental collaboration
Program critical facilitation and collaborative thinking: coaching toward integrative decision-making
Dynamic collaboration is based on three recent scientific insights. The first insight is that the essence of functions and roles is the essential difference that employees must make. This is in stark contrast to focusing on activities that must be performed. The second insight is based on the fact that employees evolve throughout life and builds on how this evolution affects their awareness, their problem approach, and their "collaborative approach. This complements a one-sided focus on competencies and skills. The third insight is that the fundamental strength of winning teams is collaborative thinking, the way they bring things together while thinking. This is in stark contrast to an assumption that the chemistry between team members and the behavioral skills associated with it make the difference.
This critical facilitation program provides the foundation to help teams think collaboratively. The focus is on influencing the depth and breadth with which problems and challenges are considered and, by extension, move toward more comprehensive, more integrative decision-making.
As a participant, you will learn to observe the thought structures of others and yourself, allowing you to begin to think about what you have not thought about at the time. We also practice thought-opening questions extensively, allowing you to manage the co-reflective process in teams better. Executives discover how to conduct more effective strategic and innovation dialogues. Facilitators broaden their intervention repertory and will be able to encourage teams to self-direct more effectively.
Dates (half days): September 23 and 30, October 7, 14, 21 and 28.
Participation in the program is Euro700 (excl. VAT). For more information click here.
Workshop on giving and receiving contribution-oriented feedback in teams: coaching towards self-managing teams
In this workshop, you will delve into one of the hidden dimensions in giving and receiving feedback. We zoom in on the question of what kind of feedback you can use to strengthen the taking of ownership.
The workshop is aimed at executives and consultants who have been confronted with the limits of giving and receiving feedback. We mean facing resistance, situations where feedback does not arrive or perpetuates conflicts, and tension fields.
As a participant, you learn to recognize the patterns behind taking (or rejecting) ownership. You will be given a framework to assess whether someone is functioning in-flow or is operating from a risk zone of burn-out or bore-out. Based on this, you can reasonably predict whether individuals and teams will achieve self-steering and what is needed to bring this about. This broadens your view of what works in classic self-direction approaches, your intervention choices, and your potential impact.
Participation in the workshop is 250 Euro (excl. VAT)
Dynamic Collaboration Hack Webinar
How do you help employees cope with increasing complexity? The practice of vertical growth assignments. Click here for more information.
Creating breakthroughs in the organization of work
Program transformative organizational development: a guide to systems transition
This program will forever change your view of organizing and business development. You will discover the blind spots in your organizational development approach and be given other keys to making organizational change work.
The program is aimed at senior managers and systemic organizational development facilitators who want to work simultaneously on three-time horizons: immediate, transitional, and transformational. As a participant, you are looking for an integral guide to translating strategy into effective collaboration.
As a participant, you will learn:
Assess what works in an organizational design/structure and what elements in an organizational design lead to slow decision-making, micro-management, inefficient decision-making, fault lines in strategy realization, and unwanted attrition.
What small interventions can you use to create positive breakthroughs in the partnership.
How to mutually reinforce the growth of employees and that of the team and the company through adjustments in role and job design.
How to prevent silos from starting to form in growth and turn siloization into productive team cross-boundary collaboration.
Dates: November 18, 25, and December 2
Participation in the program is 700 Euro (excl. VAT)
Dynamic Collaboration Application Workshop
In this workshop, you will learn how to handle the two modules of the Dynamic Collaboration Application. The Dynamic Collaboration Application is a digital tool that helps you streamline and enhance value creation in your organization. The application consists of two modules. The first module enables you to review and redesign the value creation in roles and functions. The second module helps you assess how employees and teams interpret (narrow or broaden) their roles. This spearhead diagnostic software was developed in collaboration with the Flemish Agency for Innovation and Enterprise (Vlaio).
As a participant, you will learn:
Assess the complexity of roles and functions;
Assess the complexity management of employees;
How to achieve better matching of employees with their roles;
Assess upward and downward dynamics in teams;
How to use the software in change processes.
The workshop is aimed at anyone involved in redesigning organizations and will be arranged at the request of interested participants. The maximum number of participants per workshop is 8. The workshop price is 1.600 Euro (excl. VAT). The individual participation fee is the workshop fee divided by the number of participants.
Dynamic Collaboration Hack Webinar
How can you organize yourself to be more customer- and market-oriented? The practice of working with relative performance objectives. Click here for more information.