Dynamic Collaboration Deep Dives
In-depth solution-focused inspiration to truly weave best practices into your collaborative practices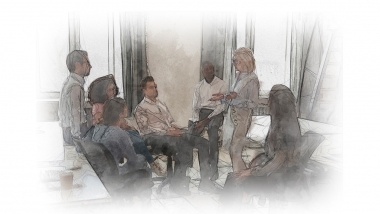 Companies that embrace practices from the New Normal will realize competitive advantage: more comprehensive decision-making, more vital mutual learning, and more sustainable development.
The deep dives always start from one cornerstone of the Dynamic Collaboration approach: decision-making, work design, and team dynamics. They are three-day programs in which we make a unique connection between the best scientific research on the themes and the emerging practices in organizations.
The deep dives are three-day programs aimed at senior managers and systemic organizational development supervisors who are confronted with the limits of their approach and want to enrich their perspectives. The Deep Dives are designed to reinforce existing frameworks and toolkits. Indeed, each Deep Dive brings to light a hidden dimension and a complementary intervention process. This allows you to weave the insights provided into your approach.
The deep dives consist of three days each, spread out over time. The participation fee per deep dive is 900 Euro (excl. VAT). The Dutch-language sessions take place physically. The English program is provided digitally.
27/01, 17/02 en 10/03/2023 – Verruimende denktools voor leidinggevenden (drie dagen – NL)
Dit programma is ontworpen om leidinggevenden te ondersteunen in cruciale leiderschapstransities, namelijk deze die te maken hebben met enerzijds de noodzaak om breder te denken en te beslissen en anderzijds het loslaten van het ego en van hieruit sterkere verbindingen te realiseren in samenwerking.
Als deelnemer leer je:
eigen aannames en denkpatronen te observeren en werkbaar te maken;
problemen en vraagstukken te identificeren voordat ze hardnekkig worden;
relevante perspectieven effectief te identificeren, te verduidelijken en te benutten om de kwaliteit van de beslissingen te verbeteren;
te bepalen wanneer en in welke mate samenwerking in een bepaalde besluitvormingscontext aangewezen is;
doeltreffende besluitvorming in samenwerkingsverband te vergemakkelijken en daaraan deel te nemen;
een omgeving te creëren die bevorderlijk is voor effectieve communicatie, samenwerking en besluitvorming.
09/03, 29/03 en 19/04/2023 – Herontwerp je organisatie en ga beter om met hedendaagse uitdagingen (drie dagen – nederlands)
Dit programma zal je kijk op organiseren voor altijd veranderen. Het geeft je de handvaten om effectievere organisatiestructuren te bouwen. Effectievere organisatiestructuren zijn wendbaar, vergemakkelijken transversale samenwerking, en versterken het eigenaarschap op elk niveau in een organisatie.
Als deelnemer leer je:
Hoe je de vijf organisatie-ontwerpprincipes in de praktijk om te zetten.
In te schatten wat in een organisatieopzet/structuur werkt en welke elementen in een organisatieopzet leiden tot trage besluitvorming, micro management, inefficiënte besluitvorming, breuklijnen in strategie realisatie en ongewenst verloop.
Met welke kleine ingrepen je positieve doorbraken in het samenwerkingsverband kan creëren.
Hoe je via aanpassingen in het rol- en functieopzet de groei van medewerkers en deze van het team en de onderneming wederzijds kan versterken.
Hoe je voorkomt dat er zich in groei van de onderneming silos beginnen vormen en hoe je siloïsering kunt ombuigen naar productieve teamgrensoverschrijdende samenwerking.
Een praktische tool om het bijdragethema binnen en de kwaliteit van de verhoudingen tussen opdrachtstellingen in te schatten.
21/04, 12/05, and 02/06/2023 – Beyond hierarchy and self-organization: develop collaborative intelligence (three days – English)
This program invites you to look at team and project work facilitation in a completely different way. We make you aware of two hitherto underexposed team dynamics linked to the way differences in perspective intake are dealt with, namely, those related to narrowing the team assignment too much (causing deadlines to be missed, budgets to be exceeded and undesirable things to be reworked) or opening up team assignments too much (creating areas of tension with flanking teams, creating risks of burn-out and unexpectedly challenging systems and processes).
In particular, we zoom in on giving and receiving contribution-oriented feedback and broaden your view on what works in classic self-management approaches.
As a participant, you will learn:
How to make teams work from different time horizons (the immediate, the transition, and the transformational time horizon).
With which essential roles you can shape a team working across departmental boundaries more effectively.
To determine which different forms of consultation are needed to achieve team objectives, and how to make them fit together.
How to differentiate feedback from the nearby zone of development of team members and guide learning processes from here.